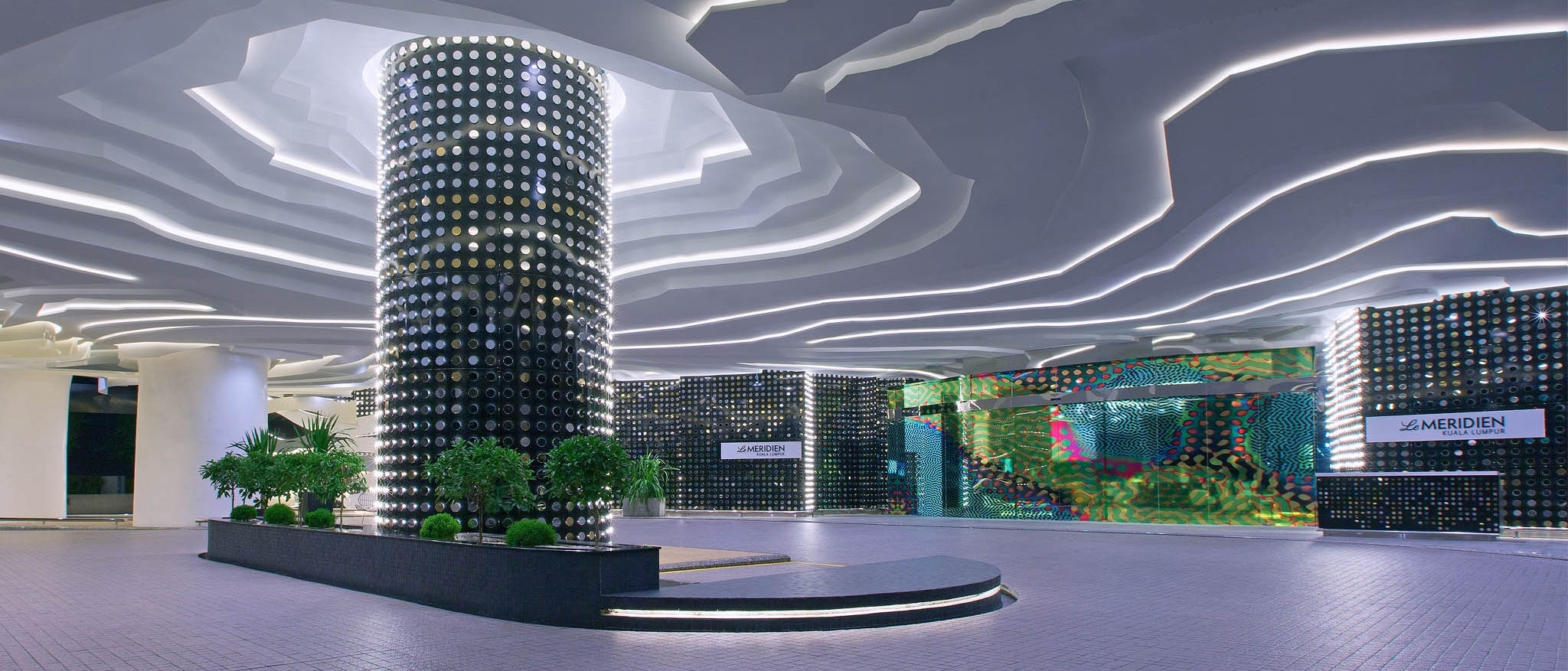 Petronas Twin Towers, KLCC
It is a world-renowned Malaysian 88-storey of twin iconic architecture wonder that pierced the city skyline. A truly an awesome sight to behold especially its imposing structure looks more majectic at night.
Inspired by the geometric shape found in Islamic architecture, this gleaming mega-structure was designed by Argentinian-American architect Cesar Pelli. Stretching out to one side of this architectural masterpiece is the spacious and beautifully landscaped KLCC Park. Other attractions at KLCC are Suria Shopping Complex, Petronas Philharmonic Hall, Petrosains Science Centre, Petronas Art Gallery and Kuala Lumpur Convention Centre, where The Aquaria Oceanarium is situated.
Key Tips
Visiting the sky bridge is a great experience, it is open to visitors between 8.30am - 5.00pm from Tuesday to Sunday.
How to get there
By Foot or Taxi
The Petronas Twin Towers are in between Jalan Ampang and Jalan Raja Chulan.
By Train
The KLCC station is on the PUTRA LRT line.
KL Tower
KL Tower or Menara Kuala Lumpur is the world's seventh tallest telecommunicaiton tower and the tallest in Southeast Asia. Standing tall at 421 m, it is located in the heart of Kuala Lumpur, the capital city of Malaysia. KL Tower offers a unique blend of Cultural, Adventure and Nature experiences not found anywhere else in the world.
KL Tower's viewing deck is a great vantage point from which to get a sense of the city's layout. Visitors can experience an exhilarating view from the KL city centre on the 335-metre high observation deck by using the high-speed lift. For those seeking adventure and adrenalin-rush activties, KL Tower is known for its World Basejump Centre. To discover the wonders of Malaysia's floras and faunas, the Bukit Nanas Forest Reserve, also known as the "Green Lung of KL City", is just located beside the tower. This uniquely 'real' plot of ancient rainforest offers a walking trail and has flora and fauna indigenous to Malaysia. Here, you get the frankly surreal opportunity to see colourful butterflies, insects, monkeys, squirrels and exotic birds in their natural habitat - all within earshot of the hum of downtown traffic!
The latest attraction at KL Tower and Bukit Nanas is a reverse bungee called The G-Force. Not for the faint of heart, your ride will be recorded and given to you on a DVD. On top of the KL Tower is the Seri Angkasa revolving restaurant where you can sample an international buffet spread while watching a continuously revolving view of the Kuala Lumpur skyline.

Key Tips
It is an uphill walk to the tower from the downtown streets, so if you are not overly fond of the heat and/or walking, do take a taxi. There are occasionally traditional and contemporary musical performances here, so get in touch with the tower information desk before you go.
How to get there
By Monorail or Taxi
The easiest way to get to the Bukit Nanas Forest Reserve is via the KL Monorail and PUTRA LRT. The nearest PUTRA LRT station to Kuala Lumpur Tower is the Dang Wangi station. You could also take the KL Monorail and disembark at the Bukit Nanas station. From there you need to either take a taxi or walk up Jalan Sultan Ismail then turn right on Jalan P. Ramlee, and right again up the hill. The KL Tower entrance will be on your left.
Bintang Walk - This lively street, in the very heart of Kuala Lumpur's Golden Triangle is a shopper's paradise.
For both shopaholics and coffee-sipping night owls, Bukit Bintang is one of the hippest streets in the city. It's a perfect place for people-watching over a latte between bouts of bargain-hunting.
A wide pedestrian walkway running the length of the street has transformed it into an exciting rendezvous point with open air cafes and restaurants.
The many shopping centres along Bukit Bintang ensure that you will never run out of options.
Key Tips
All the stores are open by 11am and only shut around 10pm.
How to get there

By Foot or Taxi
The liveliest part of Jalan Bukit Bintang crosses Jalan Sultan Ismail. When taking a taxi, a good drop off point would be Star Hill Plaza, then you could walk all the way down the street to Low Yatt Plaza.
By Monorail
There is a Monorail station called Bukit Bintang that is in between Lot 10 Shopping Centre and Sungai Wang Shopping Centre. The Monorail line is connected to the LRT line at several stations.
Central Market - This award-winning Art Deco building is now a lively market for Malaysian arts and handicrafts.
This fine example of Kuala Lumpur's architectural heritage also doubles as an air-conditioned arts and crafts market. Need a refreshment or a tasty Asian meal? Much of the upstairs as well as outside is given over to pubs and restaurants with great atmosphere. The annex building also contains eateries and two discos.
At the riverside amphitheatre outside, rich cultural experiences await. Enjoy performances, demonstrations and hands-on batik painting. Also, find out more about heritage activities like Chinese fortune-telling, Malay shadow puppet plays and Indian dances.
Inside, local artists also sell paintings while they demonstrate their artistry on-site. The market is also a treasure trove of traditional arts and crafts. Several pieces of furniture can also be found upstairs.
The world-famous Royal Selangor Pewter products are sold at Central Market. Established in 1886, Royal Selangor Pewter is the largest and oldest manufacturer of pewter products in the world. Its origins are an intrinsic part of Kuala Lumpur's history as the former tin capital of the world.
Key Tips
Central Market is situated at the border of Chinatown, so it would be a good idea to wind-up with a walking tour of Chinatown at Central Market, where you can find some air-conditioning and a refreshing drink.

How to get there
By Foot or Taxi
Central Market is on Jalan Tun Tan Cheng Lock, opposite the Klang Bus Stand.
By Train
The Pasar Seni station on the PUTRA LRT line is right outside Central Market.
Petaling Street - Right in the heart of Chinatown, Petaling Street is the best spot in the city for fantastic bargains.
Petaling Street, the centre of Kuala Lumpur's original Chinatown, maintains much of its traditional atmosphere, particularly at night when vendors fan out their merchandise along the street.
While you can shop for anything from gems and incense to toys and t-shirts, the true allure of this night market is in wandering about and enjoying its sights, sounds and energy. Food is plentiful here with many scrumptious varieties to choose from; some of the restaurants here have been in business for generations. Locals flock to Petaling Street primarily for bargain accessories and great Chinese food. So, go on, be brave - head down to Petaling Street with an empty stomach and an adventurous spirit. Even if you don't spend a penny, (which will be hard!), you are guaranteed to have an amazing experience here.
At the end of Petaling Street, you can further explore the Chan See Shu Yuen Temple which dates back to 1906. The interior of this building features open courtyard pavilions, intricate carvings and paintings. On the exterior, the temple depicts elaborate glazed ceramic sculptures which grace the facade and roof ridges.
For more adventurous tourists, further down from Petaling Street is the South Indian Sri Maha Mariamman Temple. This temple is situated at Jalan Tun H.S.Lee which is within walking distance from Chinatown. Built in 1873, the temple is said to be the most ornate and elaborate Hindu temple in the country. The design and decorative features include intricate carvings of Hindu deities, gold embellishments, precious stones and hand-painted motifs. Exquisite Italian and Spanish tiles provide further ornamentation. A silver chariot housed within the premises features prominently in religious processions, transporting the statue of the deity through the city streets.
Outside the Sri Maha Mariamman Temple are stalls selling garlands and strings of sweet smelling jasmine. Additionally, the strong aroma of Chinese traditional herbs and that of freshly brewed coffee waft through the air from across the street.
Key Tips
If you would like to visit the temples, they are only open during the day. However, the best food and shopping is available at night.

How to get there
By Foot or Taxi
Petaling Street is opposite the Kotaraya Shopping Complex and Central Market.
By Train
The Pasar Seni station on the PUTRA LRT down the street from the beginning of Petaling Street.
Lake Gardens - This delightful oasis within the city dates back to the 1880s and contains the butterfly, deer and bird parks.
Taman Tasik Perdana, better known as the Lake Gardens, is the oldest and most popular park in Kuala Lumpur. It lies just on the edge of the city and used to be where the British elite built their fine homes in the colonial times.
Today, its landscaped hills and beautiful trails provide an escape for city dwellers out for a jog or some early morning t'ai chi. Its main attraction is the lake surrounded by lush greenery in a 92ha. (227 acres) parkland that provides a refreshing ambience.
Roam through the aviaries at the Bird Park and Butterfly Park. Or take a stroll through the beautiful Deer Park and Orchid Garden, which are all reachable either by foot or by regular shuttle buses. From the gardens, you can also visit other attractions such as the National Monument, the Planetarium and the Islamic Museum.How to get there
By Taxi
Entrances to the Lake Gardens are on Jalan Parlimen and behind the National Mosque.
Merdeka Square - Merdeka (Independence) Square is the focal point of much of the city's celebrations.
Literally translated as "Independence Square", Dataran Merdeka is an excellent locale to journey into KL's past.
It was here that the Union Jack was lowered on 31st August 1957, signifying the end of British colonial rule. And at that moment, in front of thousands of thrilled Malaysians, Tunku Abdul Rahman, Malaysia's first Prime Minister, led the famous chant: "Merdeka! Merdeka! Merdeka!" (Independence!) proclaiming Malaysia's independence as a nation.
Today, a 100-metre high flagpole proudly flies the Malaysian flag as a symbol of the historic independence day.
The Padang, or field, here was the focal point of KL in the old days, serving as a police parade ground and venue for cricket and other sporting activities. The beautifully landscaped square provides impressive views of the city skyline.
Overlooking the square is the Selangor Club. Built around 1890, this charming mock-Tudor structure used to be a watering hole for Kuala Lumpur's high society.
On the other side of the field is the Sultan Abdul Samad building. This Moorish beauty, completed in 1897, housed several important administrative departments during the British administration.
Key Tips
A good time to get a feel for local urban culture is to go there after sunset, especially during the holidays and weekends. That's when locals come to throng the grass-covered, breezy Padang (field). There's no better place to meet Malaysians than at the square.

How to get there
By Train
Dataran Merdeka is only about a five-minute walk from Central Market; just take the PUTRA LRT train to the Pasar Seni (Central Market) station, walk through Central Market and turn left, crossing the river. Merdeka Square is in front of the next traffic lights.
Muzium Negara - Muzium Negara is Malaysia's national museum.It provides a fascinating insight into the culture and history of Malaysia.
Malaysia's national museum. It provides a fascinating insight into the culture and history of Malaysia.
On the museum grounds are various national treasures including the istana (palace) of Sultan Zainal Abidin III, Sultan of Terengganu in 1884.
The Istana Satu is built entirely of cengal (hardwood) and was erected in the museum compounds in 1974.
Other attractions include the bust of Sir Francis Light whom opened Penang, as well as the first cable car from Bukit Bendera, Penang.
Muzium Negara is actually the site of the former Selangor Museum established in 1898. Following the country's indepence from the British on 31 August 1957, the new federal government built a new museum on the site.
Finally, the National Museum was launched by the Yang di-Pertuan Agong III Tuanku Syed Putra Al-Haj Ibni Almarhum Syed Hassan Jamalullail on the 31st of August 1963.

Key Tips
Muzium Negara is located near the Department of Museums Malaysia, at Jalan Damansara. Opening Hours: 9 a.m. to 6 p.m. Opens every day except during Aidil Fitri and Aidil Adha.

How to get there
Taxi, Bus
Located in Jalan Damansara, Muzium Negara is easily accessible via bus, taxi, and is near KL Sentral.
Portions of above content, Copyright © 2007 Tourism Malaysia. All rights Reserved.Contact Tourism Malaysia. The material contained on this site is for informational purposes only and should not be considered a recommendation. Starwood Hotels & Resorts Worldwide, Inc., is not responsible or liable for any errors or inaccuracies with respect to the information contained on this page.